YouTube Vanced or YouTube Premium?
YouTube Vanced – In the good old days when YouTube was just YouTube, you probably had a fantastic experience with it. Since the platform grew, widening its scope of reach, both desirable and undesirable aspects began to creep in. At present, our regular YouTube moments are flooded with various commercials which intrude on our video streaming experiences. Now YouTube has a paid version that promises VIP benefits that are nonexistent for regular users.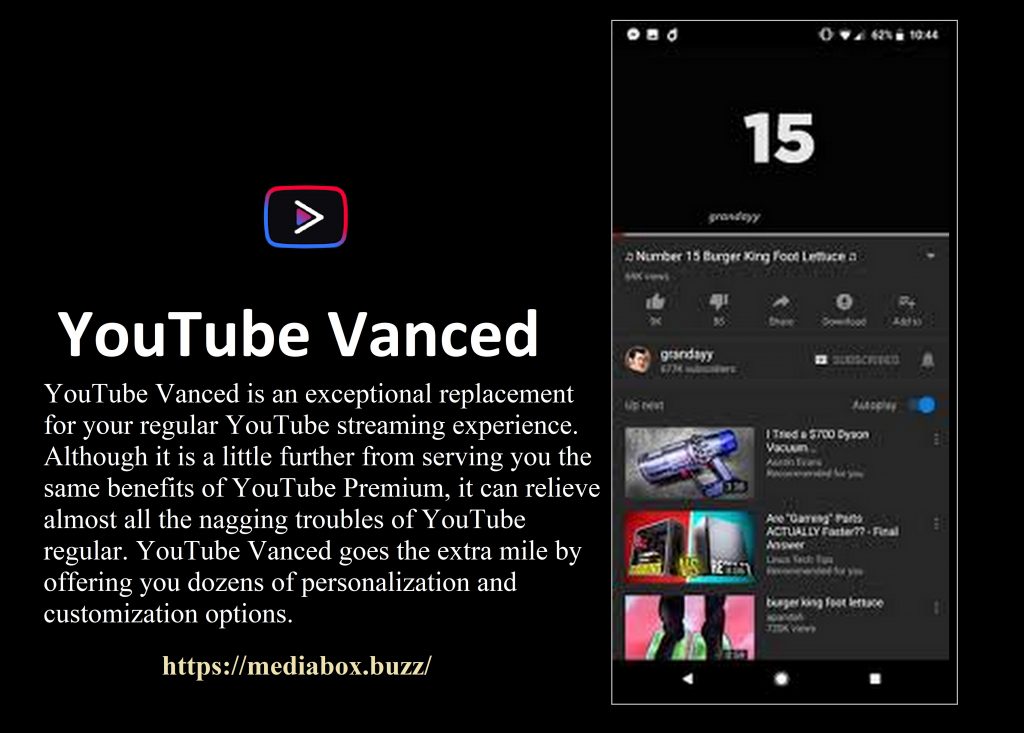 Not everyone is up for subscriptions, and most of us don't see the point of spending extra on YouTube, which is already like an ATM itself bursting out profits. The problem still remains; you are burdened with ads and a lack of personalization and customization option. To answer this, we bring you YouTube Vanced. It is an advanced modified YouTube app which you can use to reap some VIP benefits of the original YouTube without paying a dollar. Yes, YouTube Vanced is completely free.
YouTube Vanced Specifications
| | |
| --- | --- |
| App Title | YouTube Vanced |
| Last Update | Sep 30, 2021 |
| Platform | Android 5.0 upwards |
| Latest Version | V16.29.39 |
| File Size | 4.3 MB |
| Category | Video Players and Editors |
| License | Free |
| Developer | YouTube Vanced |
Why is YouTube Vanced Special?
According to the developers of YouTube Vanced, it is the stock Android app. Still, it is enhanced to deliver an ad-free experience, background playback with personalization options like true AMOLED dark mode, customization of how you interact with the app etc. YouTube Vanced is flexible to a greater degree and facilitates a unique immersive streaming experience without limitations.
The Ultimate YouTube Mod App
Yes, we will look into all these aspects in more detail in the coming passages. Some users perceive YouTube Vanced as YouTube Premium; however, this is simply not true as you can't give subscription status to whatever effect created by YouTube Vanced. It is best to take it in the light of a modified/mod app. Once you go through the features of this app, you will know why the Vanced app differs from YouTube Premium.
Best Features of YouTube Vanced in Brief
Disables all YouTube Ads (you can enable/disable specific options)
Enjoy videos in the background. You can play any video in the environment while engaging in any other task.
You can force VP9(or HDR) or vice versa
Bypass maximum resolution threshold
You can pinch to zoom on all devices
Togglable casting feature (can be turned off)
Switchable Theme that comes in white, black and Dark
Android 8.0+ compatible
Old/New Window Style
Videos are given repeat feature
Get your preferred resolution and adjust the speed
You can swipe controls for volume and Brightness level
Incorporates Sponsorblock
With a tap, you can access seek feature
You can copy the video link and time stamps
A fresh logo design by Logan
YouTube Vanced Features in-depth
Reduces strain on the eyes and battery life by providing an AMOLED black theme option.
In addition to allowing you to play videos in the background or Picture in Picture mode, this app blocks all video advertising (only on android 8.0 and up)
Like other video player programs, such as VLC or MX Player, swipe controls enable you to adjust the brightness and volume of your videos (with configurable padding).
The new auto-repeat option allows you to watch movies like TikTok/vines or continue playing a song repeatedly.
You don't like the new comments section or mini-player, do you? These may also be switched to tablet versions, which are pretty identical to the previous version.
Download YouTube Vanced apk Latest Version
Download YouTube Vanced Manager from here – download
Customization Features in-depth
Force H264 playback for older devices or VP9, or switch off 60fps for a cinematic experience if you wish. XDA and our Discord are the best places to find custom device configurations for these features.
To get the best 4k playback on any device, force the default video resolution to be as high or low as you like and even overrule your screen resolution; and also enables you to alter the default playing speed (assuming your device is powerful enough)
Most UI advertising, Merchandise and Movie upsells (and the Covid data), condense banner information (such as the Covid info), eliminate comments and many more!
Sponsor Block Features in-depth
Sponsor parts may be skipped with the use of a "skip" button
It also allows you to bypass intros, outros, and reminders to sign up for future episodes.
This API is used. On the website, you can learn more about how it works
For those who want to add their portions, the API also enables you to do so.
Control over whether to offer a button for skipping a segment category or simply not to skip it at all.
Color-codes a segment according to its playback category in the playback timeline.
How to install YouTube Vanced on Android Device?
For Non- Root Devices
If you have an Android device that has not been rooted, you need to download and install the latest Vanced Manager via the official sources. You get the link here.
Launch the Vanced Manager app and push the blue arrow found in the lower right corner.
Next, proceed to install MicroG since it is compulsory for logging in with your Google account.
With the above step concluded, you can safely install YouTube Vanced for Your Non-Root Android device and login into the account
For Rooted Android devices
The first step is to download and install the latest version of Vanced Manager using the official source
Launch Vanced manager and tap on Magisk icon to allow root authorization
Once the above step is done, you can proceed to install YouTube Vanced.
You will find the below information useful as well.
APK signature verification disabling is no longer required.
The role of Magisk has become obsolete since Google's switch to split apk format. The developers have substituted the root installation with Vanced Manager, which directly mounts the app on top of YouTube in the data/app directory, simplifying the operation and improving efficiency.
Vanced will not thwart ads while casting because when you use the cast function, it doesn't deliver the video from your device to Chromecast/TV. Instead, your smartphone will play the role of a remote controller for the YouTube app in your Chromecast/TV. This is the reason why the ad shows up.
Detected Bugs in the app
It has been observed when purchasing items in the non-root version of the Vanced app to crash. This is likely to happen to MicroG. Nevertheless, it is recommended to stick to the original YouTube app for greater security.
if you experience lagging or the app starts to crash when you are watching live videos, you should turn on VP9 codec from codec override under Vanced configuration settings
Google has forced the experimental Exoplayer which is unstable on unsupported devices
Casting will not be possible on version 16. 16.38 due to an upstream MicroG bug.
Desired quality options do not work on portrait/ vertical videos.
YouTube Vanced Frequently Asked Questions (FAQ)
Q – Is YouTube Vanced safe?
A – Our App testers have rigorously checked YouTube Vanced for security exploits, and it has successfully passed all the experiments. This app can not pose any danger to your device security as it works even without bypassing default configurations such as Root. This is a program enjoyed by millions of users as an alternative to YouTube Premium, and they have never complained about any failure from the app's side.
Q – Is YouTube Vanced illegal?

A – YT Vanced is totally lawful under all applicable laws. Only YT material is available with YT Vanced. Because of this, it is perfectly lawful to use. Don't be worried by all the phony comments people leave on the internet. If YT Vanced was unlawful, YT would have every authority to terminate your YT account, yet YT has taken no such action.
Q – Can you install YouTube Vanced on iPhone and iPad?
A – YouTube Vanced isn't accessible on iOS devices, unfortunately. On the iPhone and iPad, sideloading an app is far more complex. Users should not expect to see the app for iOS any time soon since there have been no announcements of a release date. However, iPhone users can rely on YouTube ++ as an alternative to Vanced.
Q – Why does YouTube Vanced need MicroG?
A – MicroG and YouTube Vanced (in that order) must be installed once the manager shows them. MicroG is a framework that allows apps to operate on computers that don't have Play Services installed. MicroG was forked by the developer so that it could be used by applications that needed Google Authentication.
Wrap Up
YouTube Vanced is an exceptional replacement for your regular YouTube streaming experience. Although it is a little further from serving you the same benefits of YouTube Premium, it can relieve almost all the nagging troubles of YouTube regular. YouTube Vanced goes the extra mile by offering you dozens of personalization and customization options. At its core, Vanced liberates you of ads, play videos in the background and delivers a thematically rich experience.
Vanced for Android is the best option for all YouTube users who want to get a free alternative to the YouTube subscription version. Even if Vanced is technically a modified app and is not officially accepted by Google Playstore, it is highly popular and loved worldwide. Due to its popularity, Vanced is always active with fresh features and updates. The developers are also keen on bringing out the best of YouTube Vanced, supported by a community of Vanced users.