The Mediabox HD and Android TV Box serve as the ultimate cinema experience on the big screen. This free movie app can take your movie streaming experience to the next level, collaborating with an Android TV Box device.
Mediabox HD is constantly updated with new content from various genres, including Action, Romance, Comedy, Thriller, Horror, War, Drama, and so on. Although this movie app is primarily intended for Android and iOS mobile devices, it can launch seamlessly on TV and other big-screen devices.
It is entirely free to use this fantastic movie app, and it works similarly to Netflix, HBO, and Amazon streaming services.
A Movie App You Can't Help Falling Love With
There are a ton of benefits you get when you use Mediabox. It is a feature-rich platform that covers a wide range of user interests. These may be superior quality videos that come in HD, FHD, or even UHD.
The possibility to download movies and shows and the availability of fast streaming servers are only a few of this app's strengths. It comprises multilingual subtitles, fulfilling the language demands of an international crowd.
The app also wins users with its gorgeous UI; it is user-friendly and tempting. For users willing to pay a small fee, Mediabox HD provides a VIP subscription. This unlocks some exclusive facilities. Refer to the below list of Mediabox HD's best features.
Mediabox HD Android TV Box Standout Features
Access thousands of the latest, popular, trending, and top-rated movies and shows that belong to diverse genres.
You can stream HD, FHD, and UHD content with fast servers and zero lag.
The ability to download movies and shows from within the app.
Compatible with Android smartphones and tablets, as well as Apple's iPhone, iPad, iPod touch, and all other mobile devices.
No need to sign up or register to view Mediabox movies and shows.
Play Mediabox HD content on Firestick, Nvidia Shield, Roku, Smart TV, Android TV boxes.
You can quickly locate your favorite movie or show with filters like genre, year, rating, etc.
Use the in-app search function to find content quickly.
You can request media on Mediabox HD if they are unavailable.
Trakt and Real-Debrid services are also incorporated into the app.
Save your most-loved content with the favorites option and keep track of your viewed content with watch history.
VIP membership unlocks benefits like priority requests, paid member recognition, priority access, Full HD and UHD content, faster servers, multiple device access, etc.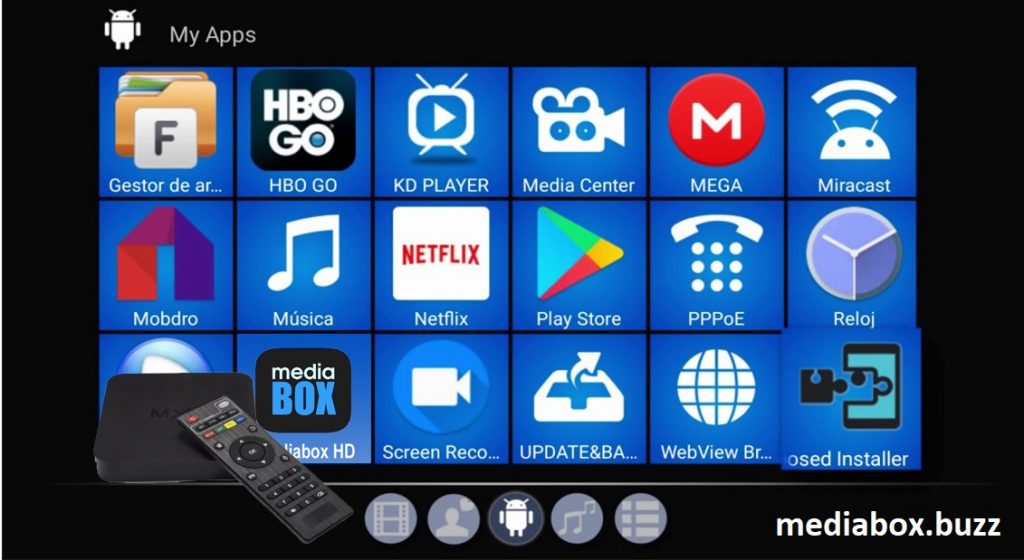 Hassle-Free Setup
The beauty of Mediabox HD is its ability to work with multiple device platforms without the need for third-party software. You can launch Mediabox HD on a big-screen device like an Android TV box by following a few easy steps.
However, if you are going to do this for the first time, you will likely get confused. This small guide will be handy if you do not want to set up Mediabox with an Android TV box all by yourself.
Here we provide step-by-step instructions on making Mediabox HD APK work on your Android TV Box device. Fortunately, Mediabox doesn't require you to be a tech-savvy individual to configure the app with your TV device.
The procedure to download and install Mediabox HD on an Android TV Box
An Android TV box is a portable device that you can easily connect to the internet via your Android TV. The device can be either a box-like piece of equipment or a dongle that wirelessly connects your TV. The compact nature of the device makes it highly usable.
You can download and install Mediabox on Android TV in no time, but you will require a downloader app to complete the process. This section will cover how to do that.
Visit the security settings of your Android TV device and enable the Unknown Sources option. This makes it possible to download third-party programs on your device.
Ensure that unknown sources are active and proceed with installation from the Amazon store.
Now you can launch the Mediabox HD App with the assistance of the downloaded app.
Steps to Enabling Android TV Box Third-party Settings
You can locate the menu bar, which is available on the left side of the home screen. Please navigate to the settings option and click on it.
Choose the settings option, press Device, and select "Developer Option."
You have to check the Developer option and press Enter to open Apps from Unknown Sources.
You need to select the "apps from unknown sources" option to enable the installation of any third-party apps.
Now activate the option if it is disabled to allow the abovementioned type of installation. It will display a popup notification asking you to turn it on. Select the "Turn on" option to permit installation. Once the option is active, you can go for the Downloader app.
Downloader App
After completing the above steps, all you have to do is go to the home screen of your TV device. There it would help if you looked for the search icon once again. The search icon is available on the home screen by selecting the icon similar to the lens on the menu bar at the top.
You will see a virtual on-screen keyboard with the above action, which you can use to type the word "Downloader" and look it up. Now choose the downloader app and proceed to download it.
It is a simple installation process. It will force a few popups on the screen, which you should confirm. All parties must agree for the installation to be a success. You will find the downloader app on the home screen at the end.
Go back to your Android TV home screen and check for options in your app's channel section.
There you will see the option "Mediabox HD" and press it. You have to drag it to the application list to wind up the process. Now click on the Mediabox HD download link and let the download process of Mediabox conveniently.
Its finally possible for you to enjoy thousands of movies and shows on your Android TV Box.
Mediabox HD for Android TV Box FAQ
Is Mediabox HD Safe for Android TV Box?
A – Mediabox HD has been tested on numerous Android TV box Devices and found no safety issues. It is advised to turn off the Install from Unknown Sources option after you have installed Mediabox on your Android TV
Do I get the same Mediabox HD content for Mobile on TV?
A – Yes, there is no content change for movies or tv shows. This app has no separate TV version, so you get everything the same as you get on your mobile
What can you do with an Android TV box?
A – An Android TV box is a streaming device that you can connect to your TV to view Netflix and other streaming services that are generally only accessible on mobile devices like laptops, tablets, phones, or smart TVs. Streaming players and set-top boxes are different names for these TV devices.
Is there a monthly fee for the Android box?
A – The way it works is that suppliers begin with a simple Android TV box… Customers connect the loaded box to their television and watch anything they want, ad-free. There are no monthly costs, and The gadget might threaten video streaming providers and cable corporations.
Final Thoughts
Mediabox HD is the perfect choice for free streaming movies and shows on your Android TV Box. The app has an endless stream of content for folks with all sorts of tastes; it is never too late to discover your next favorite flick when you have Mediabox with you.
This app fits in your pocket with mobile as a portable streaming medium or works on your big screen TV without compatibility issues. You can even consider Mediabox HD in the same league as Netflix or HBO.
Its premium quality is even more distinct from the VIP version, which rewards paid members with benefits that matter. Mediabox HD has excellent cost-per-value considering its budget-friendly premium fee. This movie app is highly recommended for all movie lovers out there.