Mediabox HD Latest Version Download Free
Watch Movies & TV shows online for free or download for apk Android, iPhone, iPad, iPod Touch, Windows PC & Mac devices from MediaBox HD app. It's support Android TV & Apple TV. Get Lifetime VIP Membership – $11.99 up to 2 devices. Follow here to download Media box HD latest version free.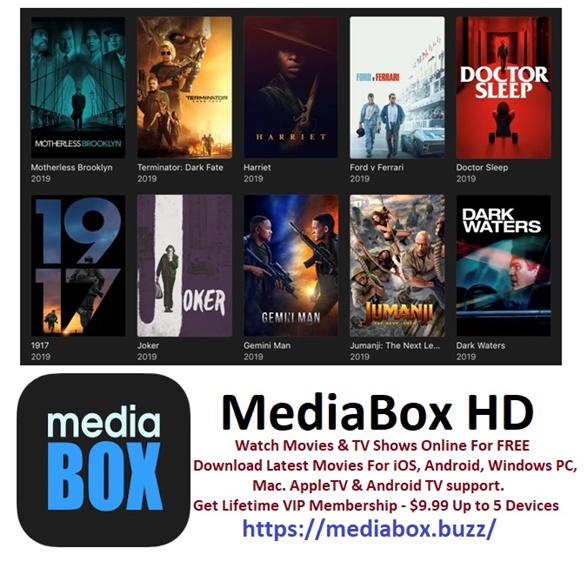 MediaBox HD Download
MediaBox HD APK Android

Mediabox HD iOS Install Via Sideloadly
Mediabox HD Alternatives Download
You can download ZiniTevi or Moviebox pro app for Android, iOS mobiles, PC and TV to watch the latest movies and TV shows free. It has more features for users.
How To install the IPA file to your iDevice by Sideloadly?
Connect your iPhone to your PC or Mac using a USB cable.
Launch Sideloadly by dragging the downloaded/saved IPA file into it.
Use your Apple ID and password to log in (This is only submitted to Apple Servers, so the process is safe).
To validate it, use the Apple ID verification code as usual.
In a couple of seconds, IPA will be installed.
On your iDevice, navigate to Settings>Profiles and Devices Management>Trust the Developer.
After the installation process is complete, Apple needs you to reinstall the program every seven days.
All you have to do now is connect your iPhone to your computer and launch Sideloadly.
Movie and TV Show apps crowd internet these days, but how many of them actually deliver what they preach and work to meet the demands of diverse online users. A lot of such apps get rejected because they fail to address the needs of consumers and also they get displaced by sheer competition. And the movie apps that survive the dynamics of the world of web and maintain their place are really the highest quality services in almost every domain they operate. One such top-ranked movie and TV show app is undoubtedly the Mediabox HD app.
Mediabox HD has gained immense attention due to its eye-catching features like direct streaming of movies and Tv shows, Direct downloading possibility of video content, Convenient and User-Friendly Interface, minimal ad interference, the presence of a massive library of movies and TV shows, excellent customer service, and premium membership facilities.
How to Download and Install MediaBox HD apk for Android
Since MediaBox HD for Android is not available on Google Playstore, you need to download the apk file outside. You can download the latest version of Mediabox HD Android from here. We have tested the file for any security vulnerability hence you don't need to worry whatsoever. Follow the below steps to get Mediabox HD Android on your device.
Click on the button to download the mediabox hd apk file.
Android OS usually disables third-party app installation option in settings, so you have to visit settings and enable the unknown sources to feature in your android device's security setting.
Locate the downloaded apk file and click on it.
The app will install in the usual manner.
After the installation, the app will be scanned by the android device for any vulnerability.
Finally, Start your app by tapping on the open button
That's it for downloading and installing Mediabox HD for Android. It is simple as ABC and Nothing confusing unlike some other third-party apps when installing outside the google Playstore.
How to Download and Install MediaBox HD for IOS
Mediabox HD app is also compatible with Apple devices. IOS delivers smooth performance when it comes to running MediaBox HD on its hardware. The best thing about Mediabox for iOS is that you don't need to jailbreak or bypass the iOS security system to get the app working. Follow the below instructions to download and install MediaBox HD for IOS.
Download the Mediabox HD iOS file from here. Click on the link and you will be directed to the download location. Click download to get the file on your device.
Allow the app to install when a message prompts " would like to install MediaBox HD",
When the installation is complete you may find the app icon on your home screen.
Now go to settings -> General -> Device Management.
You need to enable trust on your apple device to make the app executable otherwise apple security will deny the execution of the program.
Once the trust is established Mediabox HD can run on the device without any issue.
Conclusion
Mediabox HD is a well-established service provider in the arena of movies and TV show apps. The presence of a plethora of video contents capable of satisfying preferences of various users and the way how the app delivers such content through a catchy user interface combined with direct streaming and downloading options may be considered unbeatable aspects in the ever-competitive app market.
The app delivers what it promises, unlike some other sugar-coated apps that claim to offer facilities beyond belief. You will not regret downloading MediaBox HD app when you experience all its plus features. We invite you to try this wonderful app and witness what you have been missing before.