Download VIP version For iOS and Android
Get MediaBox HD VIP Lifetime membership only for $9.99. VIP access Up to 5 devices, No revoke for iOS devices. One device per donation.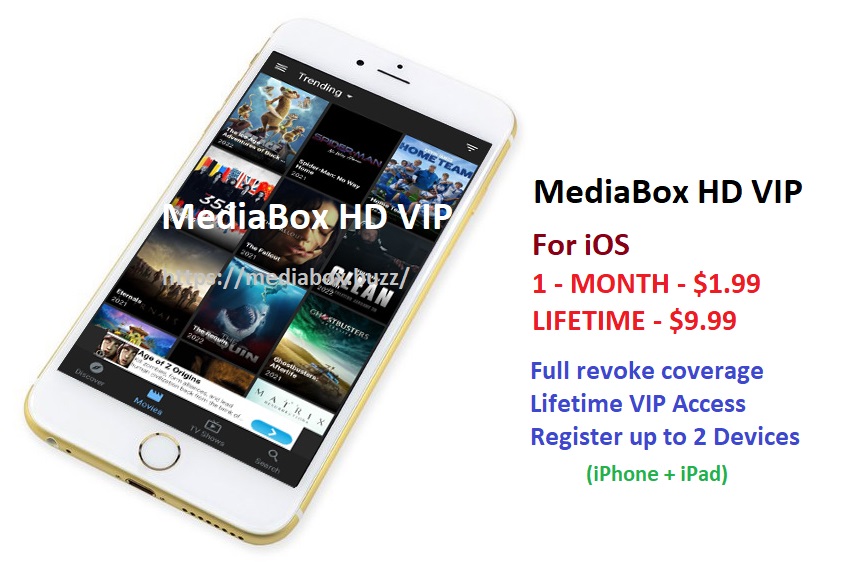 Among many apps that claim to offer access to thousands of movies and TV shows 'MediaBox HD App' is remarkably unique and versatile. First of all, the MediaBox HD app primarily functions like a mobile app providing its users on the go viewing experience for their desired movies and shows. Secondly, most features on the app come free of cost, hence this app can be termed as a free movie app. It includes direct streamable and downloadable links that can be used to watch or save videos on your mobile. Media box HD App is compatible with many smart platforms including Chromecast, Roku, Firetv, Smart-TV, wifi-sharing.
MediaBox HD VIP Download

MediaBox HD app is free, but you can pay for premium services if you wish to benefit from some exclusive feature available only for paid customers. There is an option in-app to convert your free account to a paid one with premium services. We list all the facilities you can get once you become a pro member. Please note that we charge this small amount of money in order to cover our expenses for servers and other hosting services.
MediaBox HD VIP Features
Pro member means you support our community to keep most of the features in the app without any fee. Your donations help us maintain our servers and provide you an uninterrupted service.
No advertising – You may see some advertisements when you are a free user. They may not be too intrusive, even so, you will find it annoying. If you become a pro member all the sponsored advertisements will be removed from your viewing experience. You can use the Mediabox HD app without any intrusion.
High Priority Request – Once you are a pro user, you will be recognized more and your requests to get movies through the movie request section will be given high priority.
VIP membership means you are able to get prompt access to resources on the MediaBox HD app before they become available to the free users. Therefore you do not need to wait to count your fingers.
Priority Support – Your inquiries and concerns will be paid more attention throughout the app.
Dedicated Streaming Server – Fast Speeds. This is one of the key features of premium service, you get lightning fast servers to watch movies and shows. These are separate and high-performance servers only paid users are given access to.
Compatible with Multiple Devices –you are allowed to access your MediaBox HD account with five separate devices at the same time.
VIP Features Summary
If you donate you will be rewarded VIP membership
Follow the below steps to get premium featured Mediabox HD account
Download MediaBox HD app from our site (we provide safe and tested APK and ios files)
Log in to the app ( visit VIP section).
Follow the procedure to activate the premium account.
Restart the app (close and reopen it on your device).
Few apps offer such premium facilities for budget-conscious people. the fact that these premium features can make your streaming and downloading experience so much better is a big plus point for anyone.